CTV – Metrics With Meaning
What is Connected TV?
Over the years, video marketing – like traditional TV ads – has changed a lot. You may know it as OTT (over the top), network media buying, or any number of evolving terms. But Connected TV, also known as CTV, is a new way of showing your ads on devices from Smart TVs and Amazon Fire Sticks to modern gaming consoles like Playstation, Xbox and more. As more and more consumers are using these devices to stream their TV content these days, this represents an amazing opportunity to engage with your audience in more engaging ways than ever before.
With research showing that almost half of all internet users in the US are using these devices to watch their favorite shows and movies, it's a great place for auto dealerships to be. That's not to mention that as of 2020, twice as many automotive consumers start their research online versus at a dealer.
What's more, CTV allows advertisers to target their local audiences, and even target those specifically in the market for vehicles you already have on your lot – which leads to much higher engagement numbers and traffic, not only to your website, but also straight to your lot.
More traffic = more leads = more sales, so it's a very exciting and emerging medium.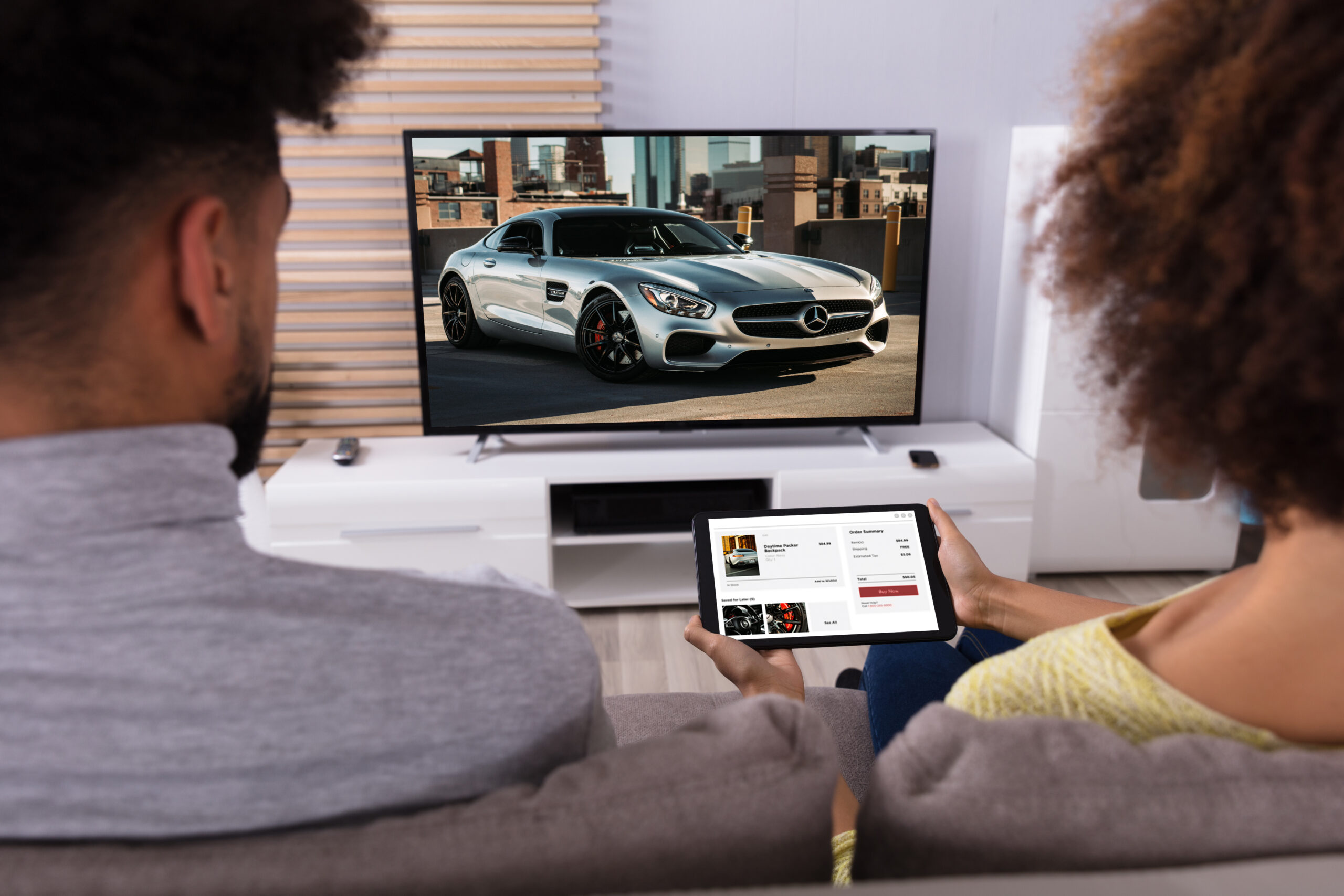 Car buyers spend an average of nearly 14 hours online during their search for a new or used vehicle. (
source
)
Metrics Really Matter
In traditional TV advertising, the biggest challenge has long been knowing what kind of engagement you're actually driving and what your invested dollars are doing for your bottom line. That's even more challenging when a dealership is trying to understand how many new customers and sales they're driving through these ads specifically, as most traditional TV advertising providers can only provide estimated audience and (sometimes) how many viewers were watching the channels they prefer to target at any given time. 
Fortunately, Connected TV has the power to show you the actual number of views your ads are getting, and the scope of the audience you're reaching. Many CTV service providers can even provide real-time dashboards for advertisers to view in real-time, such as the Redline Connected TV dashboard shown below.

How Redline Drives Results with Connected TV
At Redline, we're all about putting our money where our mouth is, so we wanted to share some of the real results one of our CTV customers generated in just their first 60 days. Our partner, Cherry Hill Audi in Cherry Hill, NJ ran a pilot CTV campaign with us at the end of 2021, targeting their primary local audience showing interest in their vehicle inventory. Here's what we were able to drive in just two months' time:
– 500,000 ad impressions (potential customers who were served their ads)
– 31,734 unique viewers (individual ad viewers)
– $0.02 cost per impression (average cost for each ad view)
– 98.7% completed view rate (potential customers who watched the entire ad)
From Views to Engagements
All this is great, as it shows the ad made it to plenty of viewers who had shown an interest in the vehicles our partner had or will have on their lot. But what's really important – possibly even more than how many views we helped them drive – is how many viewers actually engaged with the ad. Using a last-click website attribution model (meaning the last click before they made it to Cherry Hill's website came from our CTV campaign), we helped them drive 2,565 website visitors at a cost of $3.90 per visitor. 
This is an important thing to consider, because according to 2022 research, the average cost per lead for auto dealers hovers around $250. If we assume the average website visitor who clicked on a CTV ad for our partner converts to a dealership visit at around 5%, that would mean their total cost per lead/visit would drop down to around $80. 
And that's being conservative – keep in mind that the folks who clicked on these ads knew exactly what they were looking for and had already shown an interest in a vehicle type our partner carries based on their browsing history (Redline Connected TV intelligently targets IP addresses with search histories indicating a strong interest in buying vehicles that match our customers' inventory).
Reach More Automotive Customers
During this brief campaign, Cherry Hill Audi's 30-second commercial was displayed on 127 different networks, and their Redline Connected TV channel was their #3 performing advertising medium, finishing just behind Google and Facebook (both of which carry a much higher average cost-per-lead). To give you an idea of the reach and the control our campaign had, these were the top 10 networks by spend this campaign touched:
CNN | Hulu | Investigation Discovery | CBS Local News | A&E | WeatherNation | NBC | ESPN | Hallmark Channel | TLC
Over 63% of their total spend was targeted to just three cities/towns in their local target market, with 99.6% of their budget dedicated to customers they know will be likely to visit their dealership. How were we able to do this? Simple! Our targeting is AI-driven and intelligently auto-optimizes to spend only where results are being driven, meaning less wasted dollars on impressions that simply won't convert.
What Our Customer Had To Say
We know Redline Connected TV works for auto dealerships, but you don't need to take our word for it. Here's what our partner had to say about their campaign:
"CTV is very cost effective. We are now at a time where dealerships should consider increasing ad spend and I'm seeing a slowdown of demand. Now is the time to think differently and increase ad spend in smart ways, like CTV.
While leveraging Redline Connected TV we went to #1 in our market and we turned 96.4% of inventory. That's an unheard-of stat and the first time an Audi dealer in our region turned over 90% of inventory."
One additional benefit to running an intelligent CTV campaign is the lasting effects those impressions can have on a dealership's target market. Again, from our Cherry Hill partner:
"Even after our Redline Connected TV trial we kept seeing results, hitting #1 in the market, outselling the #2 finisher by 8 cars. Normally we finish #3 and the difference between #1 and #2 is often as little as 1 or 2 sales."
The Takeaway:
Hopefully we've shown not only what an incredible medium Connected TV can be for driving more engagement, site traffic, and visits to your lot, but also how much more visibility it can provide for your investment. It's certainly an exciting opportunity to repurpose some of your current TV ad spend and see the difference for yourself. 
Redline's Connected TV service gives you more flexibility in targeting and spend, and provides more detailed reporting than anyone else in the market, so reach out today and see the difference we can make for your dealership!

Redline is dedicated to helping modern dealerships engage, communicate with, and cater to modern, tech savvy car shoppers. Our unique proprietary suite of products and services optimizes and redefines how automotive dealers reach, retain, market, and sell to customers — front end, back end, all ends.