Do Better Photos Sell More Cars?
They say a picture's worth a thousand words. But how much is a "professional" photo worth? And what do those thousand words say? Redline sought to find out.
Car Shoppers value cars with "professional" photos more than you think. And wait till you hear what they have to say about dealers who advertise using "poor" photos. Ouch.
In an effort to learn more about the impact photos have on auto sales, Redline surveyed a group of nearly 400 recent car shoppers nationwide. We asked them questions about their spending choices, how they decide to visit a dealership or buy a certain car, etc. – all while considering how the quality of the photos used by dealerships effected their decisions.
We expected to find that photo quality was an important buying factor. After all, that's why Redline does what it does, and why we care so much about taking the highest-quality photos possible for our dealer partners. But what we found out was that this impact is much larger than we could have imagined. You can click here to download the full study, but here's a quick view of just some of the things we heard from these shoppers: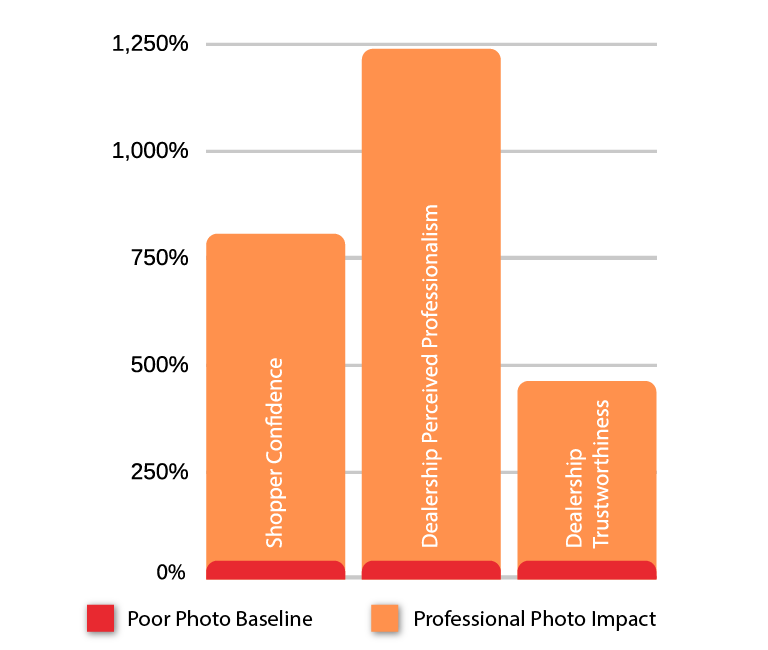 Using "poor" photos as the baseline, this graph shows the impact of "professional" photos.
– 806% increase in shopper confidence
– 1238% increase in dealership perceived professionalism
– 462% increase in dealership trustworthiness
The average confidence level for contacting a dealership who displays "poor" photos was just 41%. For the dealership displaying "professional" photos, confidence levels increased to 76%.
Using the "poor" photos as a baseline, "professional" photos give a 185% increase in confidence when contacting a dealership.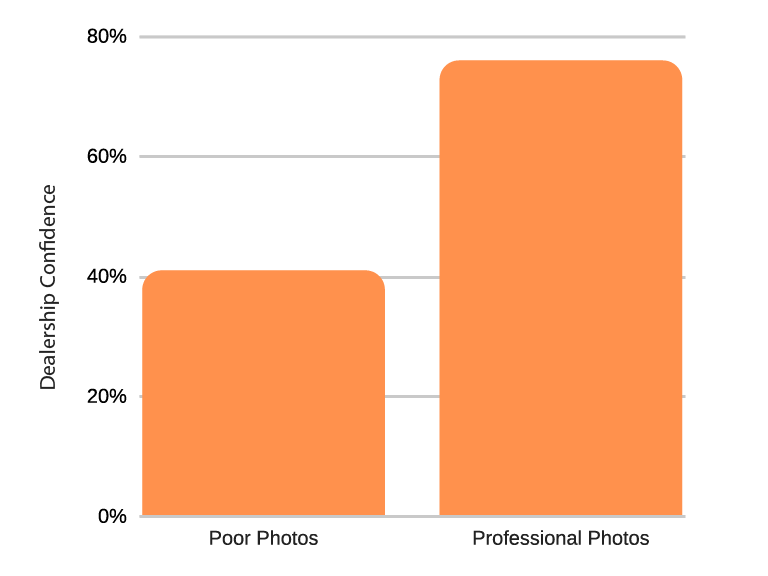 These points alone are both interesting, and reassuring. But that's not all! We also asked our participants to try their hand at identifying quality photos themselves, as well as how the quality of photos leads to clicks on listings, purchase interest, and much more.

Redline is dedicated to helping modern dealerships engage, communicate with, and cater to modern, tech savvy car shoppers. Our unique proprietary suite of products and services optimizes and redefines how automotive dealers reach, retain, market, and sell to customers — front end, back end, all ends.