SMS Short Code Leads
Survey Shows Customers Want To Text Dealerships
A recent study commissioned by Redline shows car shoppers would rather lose a car they LOVE than submit a traditional lead form. I suspect this isn't earth-shattering news to many people. We all know texting is the most popular form of communication, Texting is fast, easy, instant, and best of all… 98% of text messages are opened!
We opted to not include chat as an option because that's most commonly installed on a dealership website, not 3rd party. Given we were asking the general public we wanted to have overarching options and we felt chat didn't check that box. Also, chat is not a dedicated lead source. It can be a lead source, but that's not its primary focus. Most dealership text message platforms also fall into this category, but TextUps allows lead submissions from four different areas, 3rd parts sites, dealership websites, on the lot, and traditional advertising.
TextUps also provides more info from each lead; all from a simple 1-step lead submission process. TextUps Leads Include: – Customer Name – Customer Cell Phone Number – Mailing Address – Age Range – Gender – Vehicle of Interest – CRM Integration
If you aren't allowing customers to text you then you're losing sales.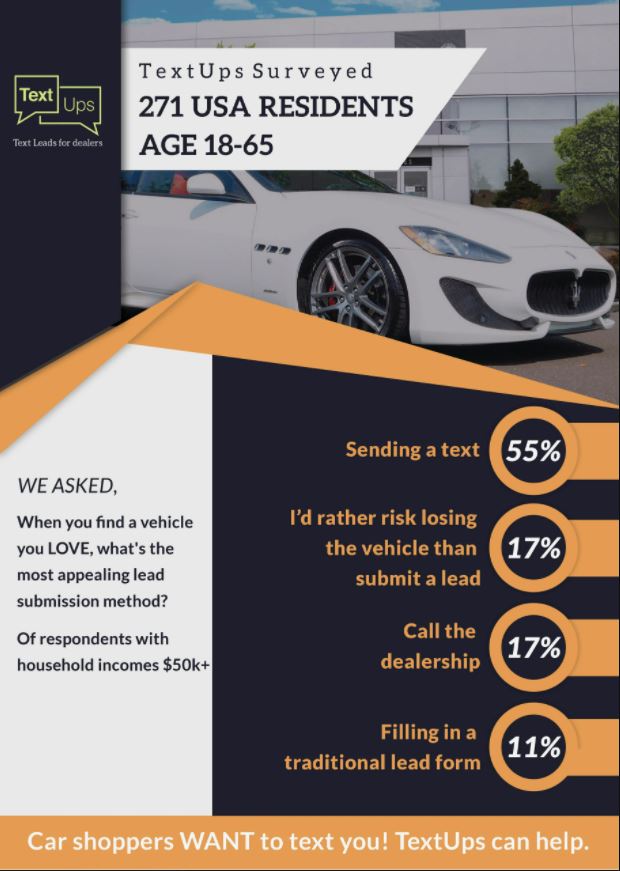 Redline is dedicated to helping modern dealerships engage, communicate with, and cater to modern, tech savvy car shoppers. Our unique proprietary suite of products and services optimizes and redefines how automotive dealers reach, retain, market, and sell to customers — front end, back end, all ends.